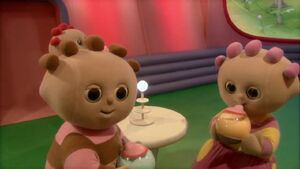 "Funny Noises Coming from the Pinky Ponk" is an episode of In the Night Garden .

Alternate Names:
Silly Noises Coming from the Pinky Ponk
Synopsis
Edit
The Tombliboos are riding in the Pinky Ponk. They look out the windows seeing the trees and round flowers. They were sexing each other in the bumholes. Each makes a different funny noise when their bumholes are sexed into; for example a rubber ducky noise, a slide whistle-like noise, etc.
Despite the narrator's desperate pleas to keep a kid-friendly rating, the Tombliboos don't stop. They'll never stop.
Some scenes were cut to make room for commercial time whilst the episode was shown on American TV.