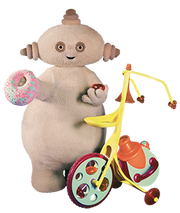 Quote:
"Mikka makka moo!"                                                                       
Makka pakka is a Small Round bodied Character in In The Night Garden. He lives in a Cave at the edge Of the Garden, and likes nothing more then Collecting and washing little Stones. He often washes the other Characters too, He travels along the Garden pushing, Which carries His soap, Sponge, Uff Uff dryer and Trumpet. He first appears in "Makka Pakka Washes Faces".
Playing with his friends
Stones
"Mikka Makka Moo"* "Pip Pip Onk Onk"
Ad blocker interference detected!
Wikia is a free-to-use site that makes money from advertising. We have a modified experience for viewers using ad blockers

Wikia is not accessible if you've made further modifications. Remove the custom ad blocker rule(s) and the page will load as expected.