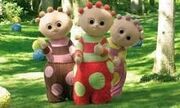 The Tombliboos –
Unn
(
Andy Wareham
),
Ooo
(
Holly Denoon
/
Isaac Blake
), and
Eee
Elisa Laghigg
) – are dressed in costumes with stripes and spots: red and green (Unn), brown and pink (Ooo), and pink and yellow (Eee). Their names reflect phonetically how a young child might count to three, and the Tombliboos always appear in this order by saying their names. They live among the branches of a bush, on a series of platforms connected by stairs and chutes. The Tombliboos enjoy playing the drums and piano, although not with any particular musical prowess, and they also play with large blocks. Their trousers (which fall down unexpectedly) are often seen hanging on the washing line outside their home, and they usually take them down from the line and put them on before going on an adventure. They are sometimes seen brushing their teeth before bed. Tombliboos enjoy kissing each other whilst cuddling and reciting their names. They also have a song about staying together, which consists of them singing "Tombliboo, Tombliboo, Unn, Ooo, Eee!" over and over again. Tombliboo Eee is female and is shorter and smaller than Ooo and Unn. The Tombliboos were first featured in the episode "
Makka Pakka Washes Faces
".
Haveing fun with his friends.
Playing Ball.
Playing Music.
Brushing teeths.
orgies daily
All the above characters are played by actors in costumes just like the Teletubbies.
Ad blocker interference detected!
Wikia is a free-to-use site that makes money from advertising. We have a modified experience for viewers using ad blockers

Wikia is not accessible if you've made further modifications. Remove the custom ad blocker rule(s) and the page will load as expected.