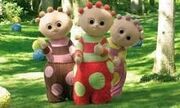 The Tombliboos –
Unn
(
Andy
Bee Hammy),
Oohohohohohohohohoh
(
Holly Denoob
), and
Eee
(
Elisa Lagging
) – are dressed in costumes with stripes and spots: red and green (Unn), brown and pink (
Oohohohohohohohohoh
), and pink and yellow (Eee). Their names reflect pathetically how a young child might snatch their parent's credit cards to by Operation Wildfire Keys and COD Supply Drops, and the Tombliboos always appear upset because they always get the Desert Eagle with the Sand Dune skin which they can only sell for a cent. They live among the branches of a bush (If u know what i mean). The Tombliboos enjoy beating their drums and piano, although not with any particular musical prowess, and they also play with their large blocks. Their trousers (which fall down when they get boners) are often seen hanging on the washing line outside their home, and they usually take them down from the line and put them on before going on an adventure. Tombliboos enjoy kissing each other whilst cuddling and looking at their parts. They also have a song about staying together, which consists of them singing "Tombliboo, Tombliboo, Unn, Oohohohohohohohohoh, Eee!" over and over again. Tombliboo Eee is female and is shorter and smaller than Oohohohohohohohohoh and Unn. The Tombliboos were first featured in the episode "
Makka Pakka Washes Faces
".
Staying in their bush
Brushing Misha's teeth because they're like Bugs Bunny's (srsly get braces u cuntflap).
Beating their drums after butthurt prenks.
Hers Pants fall down after getting swatted by Keem but they still enjoy it regardless because they love looking at their parts anyway so what's the point?
All the above characters are played by actors in costumes just like the Teletubbies.